Exhaust Fan Ventilation Installation In St. Louis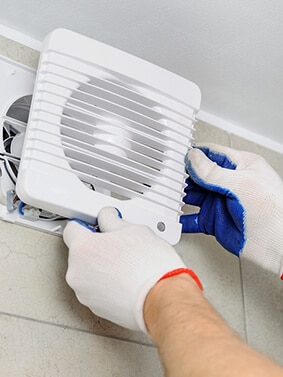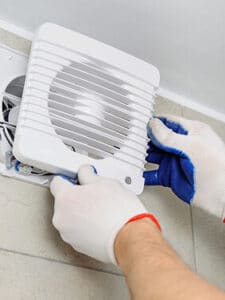 Using exhaust fans to ventilate your home is a fairly common practice used to exhaust stale air and moisture from rooms in your home. Our team at Greenmark home performance has years of experience helping homeowners in St. Louis install exhaust systems in their home. These fans create a negative pressure in your home, pulling fresh air in through gaps, inlet vents, or other air-leakage sites through your home. This fresh air replaces any exhausted stale air and can increase the air quality in your home.
Contact Us For Exhaust Fan Installation
Why Exhaust Fans Are A Good Value
Installing an exhaust system in your home, especially in rooms like your bathroom or your basement is a relatively cheap process compared to other ventilation options. These fans are usually small and require very little construction work to install in your home. In addition to this, a properly functioning exhaust ventilation system can help keep the humidity levels in your home in check. When installed in your basement an exhaust fan will remove the humid air from your basement and replace it with fresh dry air from the upper levels of your home. This can lead to a more comfortable home and can also help protect your home from common humidity related issues such as mold and mildew growth.
Improve Your Home Comfort With Exhaust Fan Installation Services in St. Louis
Keep your home energy efficient and free from stale air and humidity with exhaust systems installed by our experts at Greenmark Home Performance. Contact us online or by calling us at 314-845-9144 to schedule an appointment.