Professional Home Energy Audits in St. Louis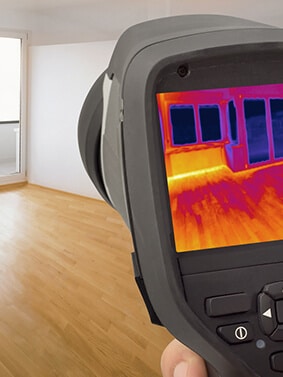 Having a home energy audit performed on your home is the first step toward making your St. Louis home more energy efficient. Our professionals at Greenmark Home Performance can help you assess where you are losing energy in your home, and can help you understand what the best solutions are to these problems. Our team has been helping homeowners in the St. Louis area determine the causes of energy inefficiency in their homes for years. In addition to this, our team offers a wide array of home performance services to help homeowners address issues that are causing energy loss in their homes. During your audit, we will check for air leaks, problems with insulation, and we will also inspect your windows, doors, and HVAC systems.
Why Should You Get a Home Energy Audit?
Having a home energy audit performed on your home can be a great way to get more out of your home (Energy Star) and save money on your energy bills. When a home is losing or gaining heat during the summer and winter months, it causes your heating and cooling systems to work overtime keeping your home comfortable. This, in turn, can lead to both higher energy bills and increased wear on your HVAC systems. Our energy audit process is designed to determine the causes of this energy loss so we can provide you with the right solutions for your issues.
Contact Us For Professional Home Energy Audits
Our Home Energy Audit Process
Our home energy audit process is designed to inspect every area of your home that is likely causing energy loss. To learn more about how our energy audit process works click each of the steps below.
Contact Us For Professional Home Energy Audits In St. Louis