Professional Home Performance Services in St. Louis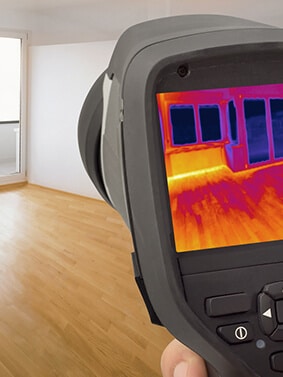 Home performance is the overall level of efficiency that your home has. This is related to the amount of energy it takes to both heat and cool your home. The home performance contractors at Greenmark Home Performance are trained to evaluate every part of your home to determine where you can improve the energy efficiency and save money on your heating and cooling bills.
We know that it is important that you are comfortable in your own home. That's why we stand behind our motto, "We Fix Homes." Our approach to home performance focuses on making your whole home comfortable year round. Our experts are trained to narrow down what factors are causing specific areas of your home to be uncomfortable. If you live in a house with cold floors, rooms that are too cold and drafty to use during the winter months, rooms that are too hot to be comfortable during the summer, you tend to avoid using those rooms, often times confining yourself to the areas of your home that are comfortable. When you think about it that's a big waste.
There are a multitude of causes for rooms to become uncomfortable at any point during the year, including improperly sealed windows, damaged or malfunctioning HVAC systems, poor ventilation, and insufficient insulation. All of these can cause any one room in your home to feel uncomfortable. Our team of experts offers a wide variety of home performance services that can help you keep your home comfortable year round.
Poor Home Performance Leads To Higher Energy Bills
In many cases, poor home energy performance can cause your homes energy bills to skyrocket. Why is this? In many instances, when a room is heated or cooled to a comfortable temperature, the only thing left for your heating or cooling system to do is to compensate for uncontrolled heat loss or gain. The more heat that gets out or in, the more your heating and cooling system needs to work. This means more temperature fluctuations and more on and off cycles. Remember your furnace and air conditioning system only costs you money when it's running. In this instance, you can refer to the loss of hot or cool air in your home a loss of energy. This energy loss can not only make your home uncomfortable, but can also cost you more money in the long run.
Our Home Performance Services
Our team is committed to helping you keep your home comfortable year round. That's why we offer a variety of home performance and home comfort services to help fix any issues that are causing unwanted energy loss in your home. Take a look below at some of our services to see if our team can help you.
Having a home energy audit can be a great way for you to determine where you are losing energy and money in your home. By performing an inspection of the home and using technology such as thermal cameras, our experts can determine exactly where your home has drafts and is losing warm or cool air.
Having improperly sealed windows and doorways can be a major problem. It can cause your home's temperature to fluctuate more frequently, leading to higher energy bills and an uncomfortable home. Our experts can determine which areas of your home are improperly sealed and provide air sealing services.
The air quality of your home is extremely important, especially if you have children or pets. Our team of experts can help determine what areas of your home are causing poor air quality and can help you fix those issues. We provide homeowners with expert air quality assessments.
Proper ventilation in your home, especially in the kitchen and bathroom, can be important. Most homes circulate air up from the basement or down from the attic which can cause the stagnant air to circulate through your home. Our experts can help you keep the air in your home fresh by installing proper ventilation systems.
Your heating and cooling systems need to be functioning properly in order to keep your home at a proper temperature. Improperly functioning HVAC systems can cause your energy bills to cost more, and having an energy efficient unit installed in your home can help you stay comfortable and save money.
Having proper insulation in your home is key to keeping your home at the right temperature no matter the season. Improperly installed or old insulation can lead to heat gain or loss throughout your home. Our team of experts provides insulation installation services to help homeowners keep their homes comfortable.
Our Approach To Home Performance
Contact Us For Professioanl Home Performance Services In St. Louis