Indoor Air Quality Assessments In St. Louis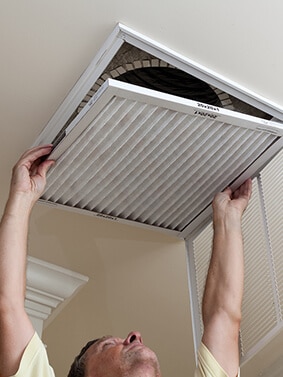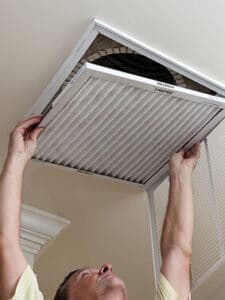 When your home has bad indoor air quality, it can lead to a variety of health problems, including infections, lung cancer, or even various respiratory problems (EPA Indoor Air Quality) including frequent asthma attacks. It can also cause headaches, nausea, fatigue, dry eyes, skin rashes, and many other unfavorable medical conditions you and your family should never have to deal with. The American Lung Association says that the first line of defense against pollution in the indoor environment is to be sure that the pollutants have no way of getting inside to begin with.
With the right types of ventilation in your St. Louis area home, you and your family can breathe fresh, clean, and healthy air. At Greenmark Home Performance, we have a team of professionals who will be able to assist you with determining what types of ventilating systems will be necessary, whether you need a whole-home system or exhaust fans in the kitchen or bathroom, we can help.
Contact Us For Professional Indoor Air Quality Assessments
How Poor Air Quality Affects Your Home
Poor indoor air quality can have a number of effects on you, your family, and any pets you may have. While the effects may not seem obvious at first, they can quickly escalate and become dangerous if your home is not properly ventilated. Many of the symptoms of poor indoor air quality are depended on what air pollutant is present in your home, and can easily be mistaken for symptoms of other illnesses such as allergies, stress, colds, and influenza. The most common symptoms you will see are:
How We Reduce Indoor Air Pollution
There are a variety of ways in which our team can help you reduce the indoor air pollutants in your home. Each of these methods are designed to combat the sources of pollutants in your home and can help increase the overall air quality in your home.
Source Control
Our team can remove any obvious causes of poor indoor air quality in your home. This can include contaminated carpets, walls, or even replacing ventilation solutions.
Ensure Proper Ventilation
Proper ventilation in your home can be the key to increasing the air quality in your home. Replacing polluted and contaminated air with fresh air is simple with a viable home ventilation system.
Ensure Proper Air Filtration/Cleaning
Replacing old air filters is a key factor in keeping the air in your home fresh. An old and worn-out air filter can contaminate the air in your home that is being circulated through your HVAC system.
Improve Your Home's Air Quality With Professional Indoor Air Quality Assessments in St. Louis
Your home's air quality should be of the utmost importance. Our team at Greenmark Home Performance can perform a indoor air quality assessment on your home to help get you on track with better air quality. Contact us online or by calling us at 314-845-9144 to schedule an appointment.