Energy Efficient Ductless Air Conditioning Installation In St. Louis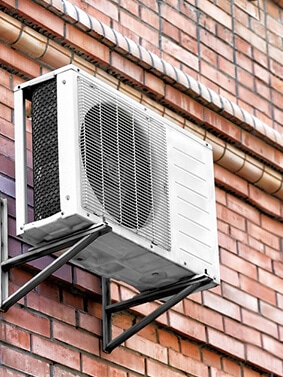 Keeping your home comfortable and energy efficient has never been easier. With the popularization of mini split or ductless air conditioning units in the last several years, it has become possible to save tons of money on your utility bills by keeping only the rooms you need to be conditioned comfortable.
Our team at Greenmark Home Performance offers ductless air conditioning installation with some of the leading manufacturers in the industry. The ductless technology is one of the most efficient air conditioning systems available.
Contact Us For Ductless Air Condtioning Installation
Keep Your Home Comfortable Right When You Need It
Ductless and mini split air conditioners give you the freedom to control the comfort of each and every room in your home. You can set the temperature as you wish for each room separately. In addition to this, you can turn off the unit when you leave the room, allowing you to save money by not conditioning a room you are not using.
The Three Main Components Of A Mini Split Air Conditioning System
The Indoor Unit Each room on a ductless system, will have its own indoor unit, whether mounted on a wall or ceiling. These units are controlled by each room's individual remote.

The Outdoor Unit There is only one outdoor unit that is linked to all the indoor units. So no need for multiple outdoor systems for each one, the refrigerant and wiring can be connected to only one outdoor system.

The Remote Control You can set the temperature with just a touch of a button. You can set it to cool, heat, dry or auto. You can even adjust the fan speed and the direction in which you want the unit to blow the air.
Mini Split Ductless Air Conditioning Solutions in St. Louis
Our team at Greenmark Home Performance can help you save money on your utilities by installing energy efficient ductless air conditioning systems in your home. Contact us online or by calling us at 314-845-9144 to schedule an appointment.